Developing Children's Vision and Enhancing Adult Performance
Vision Therapy is used to treat:
 

Eye Focusing 

Eye Tracking

Eye-Hand Coordination

Sports Vision

Computer-Related Vision Problems

Crossed or Wandering Eyes

Amblyopia (lazy eye)

Depth Perception

Visual Sensory Integration

Vision Processing relating to Reading and Learning Problems
Do you experience tired eyes, difficulty focusing, blurred vision, double vision or eye strain?
Our vision therapy center is devoted to developing, improving, and enhancing visual skills including focusing, tracking, eye alignment and coordination.
Please register on-line through our secure system so that the doctor can review your information prior to your appointment.  If you prefer, you can also print out online forms to bring with you - click here to print forms.
Will insurance cover this type of treatment?
Visual perceptual therapy for learning issues or educational problems is not covered under health plans. Some health insurance plans may cover a portion of the evaluation and treatment if there is a specific eye muscle problem. We do not bill insurance, but will assist you in the process of seeking reimbursement.
Thank you for your amazing work!
Dear Dr. Dowis, I have wanted to thank you for a long time. You may not remember me, but I was a very young patient of your many years ago (1980-1981). At the time, I was in the third grade and having a lot of difficulty with reading and writing. By that time, I had been called all kinds of names because my learning style was different than the mainstream. In fact, one of my teachers said I would never graduate from high school because I was so stupid.
My parents were at a loss regarding what to do with me, so my mom took me to see you. You said that I had a visual processing disorder and could help me. It took 13 weeks of consistent therapy both at your office and my house, and finally I could successfully read and write. Your vision therapy techniques helped me to translate my visual cues into the written word. To end this long story, not only did I graduate from high school but I also graduated from university with a B.A. in English with an emphasis in Creative Writing.
Today, I am a freelance writer, who writes mainly for children. I still employ the techniques you taught me. In fact, as my husband and I were packing boxes a few weeks ago to move back to Colorado, I found a book you recommended I read as a young child that was entitled, Put Your Mother on the Ceiling. I laughed and remembered all the great work you did with me.
Thank you again for your amazing gift of helping others. You have no idea what an incredible difference your therapy made in my life.
Sincerely, Elizabeth Rooney Putnam
By Nani, age 9 1/2
It was easier to work at school after I did vision therapy. It made working more fun to do because I could see better. I can see everything better. These things are more fun now that I can see better:
        Playing Games

        Reading

        Doing Math

        Writing

        Playing on the playground, because I don't run into things

        Doing gymnastics, because I can listen better and see the equipment better. I know    what I am doing and I know where I am.

         Drawing, because I can see what I am drawing
I don't run into my mom and dad as much as I used to, because I can see what I am doing and see them. It helps a lot.
It was very fun working with my teachers, Krystal and Andrea. I can hardly remember what it was like before I did vision therapy.
Sep 17, 2017
Vision Rehabilitation: Light, Lenses, and Learning
This year Dr. Rob Fox will be providing lectures and workshops on using lenses, prisms, and syntonics in the developmental optometry practice. Whether you are new to syntonics or are already using it in your practice this year's program has much to offer. In addition to syntonic basic theory, there will be ample hands-on opportunities and case reports showing how to better apply these tools in the treatment of your patients. These include brain injury and learning-related cases. Dr. Fox will also show how to used lenses and prisms to improve outcomes in a variety of cases.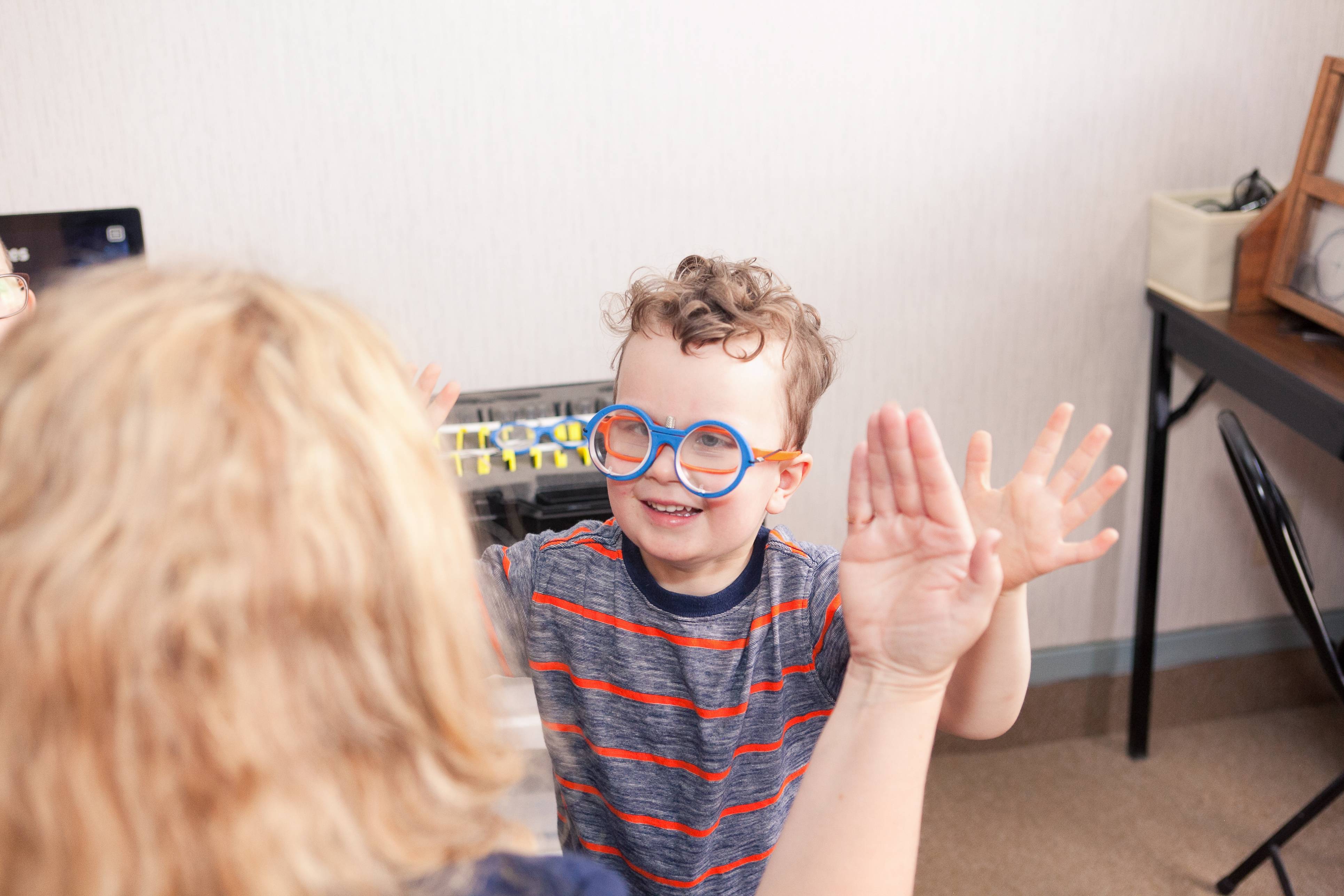 Aug 31, 2017
Dr. Simonson is excited to be lecturing at the 2017 Northeast Congress of Optometry meeting. She will be discussing the use of therapeutic prism and treatment of vertical eye misalignment.
Jul 20, 2017
Order form for My Perfect Vision, My Double Vision and My Jumbled Vision Learn more about Vision Therapy through simple stories and colorful illustrations. These are great books for children starting their Vision Therapy Journey.
1790 30th Street Suite #311 Sussex One Building
Boulder, CO 80301
Emergency:
In case of an eye health emergency or injury, please contact your primary care optometrist.