VAN ORDEN TRAINING UTILIZING THE STEREOSCOPE FOR iPAD
BACKGROUND: Millard E. Van Orden developed a stereoscopically drawn visual pattern to gain insight on the patient's binocular visual behavior pattern. This drawing records the projection in space of corresponding visual areas. When used for training, the patient receives feedback on the reorganization of visual space and stability of eye posture and binocular vision.
PROCEDURES: Van Orden drawings were completed with the Translucent Correct-eye-scope set at 0-0 and the Stereoscope for iPad set at 0 (optical far-point). The optics of the prismatic lens allow for a distance accommodative and vergence demand, but a physical distance of 20 centimeters. Targets included binocular vision space testing, far point - peripheral control, base-in projection stereo training, and base-out projection stereo training. Instructions were the same for both the traditional and digital drawings and followed the Van Orden Technique of Visual Rehabilitation Instruction Manual (Keystone View Company, www.keystoneview.com/download_manuals/6104_van_orden.pdf)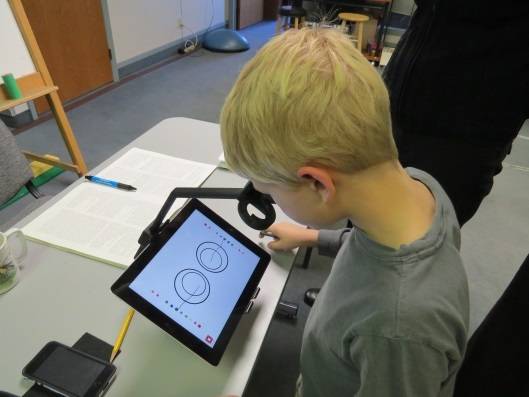 INNOVATIVE CHARACTERISTICS:
1. Ability to complete testing and training in more postures with the same device (standing or sitting, primary gaze or up/down gaze)
2. Ability to add images to electronic health records for performance documentation.
3. Ability to test visual performance when viewing a digital device (clinically noted to cause more visual complaints).
Link to more information: Van Orden Tracing on the Stereoscope for iPad and OPTO App
Thank you for submitting your abstract, " Van Orden Training Utilizing the Stereoscope for iPad", to the 2015 COVD annual meeting. The review process has concluded, and we are pleased to inform you that your abstract was accepted, to be presented as a poster. It is scheduled to be displayed on Thursday, April 16 and Friday April, 17 2015 on poster board #29.